Entertainment
"Como artesano del cuatro puertorriqueño, mi meta es ayudar a difundir el cuatro, no solo en Puerto Rico sino cruzar fronteras hacia todas partes del mundo. Aquí podrás ver mi trabajo artesanal en la confección de instrumentos de cuerdas, en especial nuestro instrumento nacional.
339 W 47th St, New York, NY 10036
10036
EVERY SATURDAY 8PM
AT
THE ACTORS TEMPLE THEATER
339 W 47th St, New York, NY 10036
SHOWTIME 8PM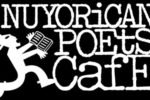 236 E 3rd St
236 E 3rd St, New York, NY 10009
10009
The Nuyorican presents groundbreaking works of literature, music, theater, performance art, poetry slam, Hip-Hop, visual art and champions established as well as rising artists from every background imaginable for ALL AGES. To find out more about the Cafe, see our individual Program pages, check out our calendar and come on down to the biggest little stage on earth.