Puerto Rican Festival at Plaza Fiesta Carolinas, Fort Mill, SC – In celebration of the Discovery of Puerto Rico
On November 19, Puerto Ricans celebrate the day in history in which it was discovered by Christopher Columbus during his second voyage to the New World.  The island was populated by as many as 50,000 native Taino or Arawak Indians. Spain later claimed the island and was christened as "San Juan Bautista" by the newcomers and the town was called Puerto Rico. The city of Puerto Rico ("rich port") quickly became Spain's most important military outpost in the Caribbean. It was then the names were switched, and the island became Puerto Rico. Puerto Rico was controlled by Spain for more than 400 years, from 1493 until 1898. While its culture and history was shaped by many other cultures, it is the Spanish who dominated the rich history of this Caribbean island nation.
On November 20, the Puerto Rican Culture Society of Charlotte joins the celebration by hosting the 2nd Annual Puerto Rican Festival.  Come explore the rich and colorful traditions of the people of Puerto Rico through its music, food, art, poetry and dance.  Plaza Fiesta Carolinas provides the perfect street party "Patronales" in any town of the island.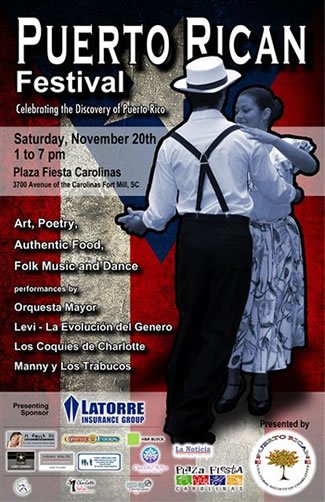 More Events
[catlist id=16]