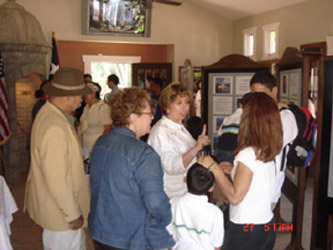 Hosing the Cottage Museum of the
House of Puerto Rico in San Diego's historic Balboa Park
Become a Host and Share our Culture
Since its opening on February 4, 2006, the House of Puerto Rico Cottage Museum aims to share with the community Puerto Rico's culture and history. The Cottage Museum hosts exhibits, workshops, and events.
It is open to the public every Sunday afternoon at noon to 4:00 pm.
Don't Miss Out on a Fun Opportunity! 
Share Your Culture & Traditions in 2013!!
Taino Sun
We Need You Boricua!
We are looking for volunteers who are interested in presenting their Puerto Rican experience or favorite topic as part of the HPRSD 2013 Culture Corner series. These are presented as part of our monthly membership meeting. We are putting the 2013 calendar together.
Are you "Sorta-Rican"? We want to hear about your experience, too.
If you are interested in participating, contact Casilda Pagan (casildacasilda@sbcglobal.net) or Aileen Alvarado-Swaisgood (quepasa@houseofpuertorico.com; 858-395-5765) .
---
Our Traditions…the Music, the Dance, the Food… the People!!
Related articles