2019 SPRING WORKSHOPS – APRIL 10 thru MAY 29
Afro Puerto Rican Bomba Classes – ADULTS 18+
TWIRL THAT SKIRT!
AfroQueña Dance Corp
P.O. Box 540002
Greenacres, FL 33454
Contact  Information:
AMERICA R. LLUVERA
Founder/director
561-313-7575
Email: afroq26@gmail.com   
 TONI MAYMI
Assistant Director
561-373-6717
Email:  maymitoni@yahoo.com
COME JOIN IN THE FUN! 
Learn the basic techniques and rhythms of the Afro Puerto Rican Bomba dance, traditional legacy of our Afro Puerto Rican ancestors.
REGISTRATION FEE:                $10.00
[Nonrefundable]
FIRST WORKSHOP:                    $10.00
TOTAL DUE ON April 10:              $20.00
 AfroQuena Dance Corp continues its commitment to the preservation of our Puerto Rican culture and traditions 
REQUIREMENTS
Ladies:  Caribbean Skirts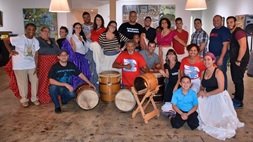 In attendance at the Grupo Balance Workshop
Miami – 2015