Anasco – La Ciudad de los Reyes y los Poetas
Anasco is a small town located in the western part of Puerto Rico. It is situated in the middle of the island, nestled between the cities of Mayaguez and Aguadilla. Anasco is a peaceful and charming town, with a population of around 26,000 people. The town is known for its beautiful beaches, friendly locals, and colorful traditions.
Anasco is often referred to as the "La Ciudad de los Reyes y los Poetas" which means "The City of Kings and Poets." The town has a rich cultural history and has produced many notable poets and artists. It is also home to several beautiful churches and historical landmarks, including the Casa Alcaldia (Town Hall), the Iglesia San Antonio de Padua, and the Casa de la Cultura (House of Culture).
History and Patron Saint
One of the most significant events in Anasco's history is its founding. The town was founded on July 29th, 1733, by Don Luis de Añasco, a Spanish governor who was sent to Puerto Rico to establish a settlement in the area. The town was named after its founder, and it quickly grew into a prosperous community.
Anasco is also known for its vibrant colors. The town's official colors are blue and gold, which represent the sea and the sun. These colors can be seen throughout the town, from the flags that adorn the streets to the uniforms worn by local sports teams. The colors also play an important role in the town's festivals and celebrations.
One of the most important festivals in Anasco is the Fiesta Patronales, which honors the town's patron saint, San Antonio Abad. The festival is held every January and includes a variety of traditional activities, such as religious processions, music and dance performances, and food fairs. The celebration is a time for locals and visitors alike to come together and enjoy the town's rich cultural heritage.
Beautiful Beaches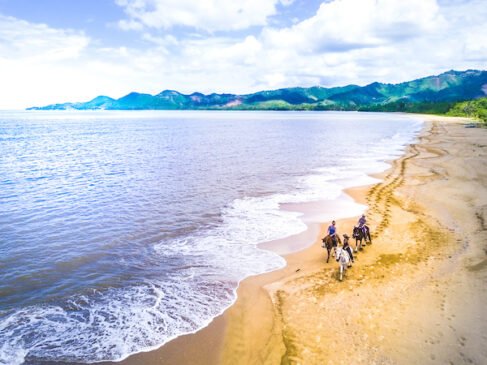 Anasco is also known for its beautiful beaches. The town is situated on the western coast of Puerto Rico, which means it has easy access to some of the island's most stunning beaches. The beaches in Anasco are popular with locals and tourists alike, and they offer a range of activities, including swimming, surfing, and snorkeling.
Another significant feature of Anasco is its agriculture. The town is known for its lush greenery, which makes it an ideal place for farming. Anasco is home to several plantations that produce a variety of crops, including coffee, bananas, and sugarcane. The town's agricultural heritage is celebrated during the annual Festival del Café y el Azúcar (Coffee and Sugar Festival), which features exhibitions, tastings, and other activities related to agriculture.
In conclusion, Anasco is a charming town with a rich cultural heritage. From its beautiful beaches to its vibrant festivals and traditions, there is much to see and do in Anasco. Whether you are interested in history, culture, or simply enjoying the natural beauty of Puerto Rico, Anasco is a town that is well worth a visit.
Añasco, PR
8:37 am, March 26, 2023
76°F
Wind: 4 mph
Pressure: 1020 mb
Visibility: 10 km
Sunrise: 6:27 am
Sunset: 6:40 pm
Local Attractions and Tours