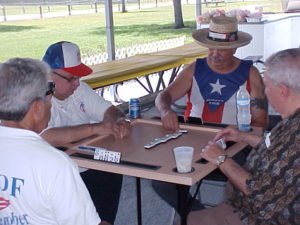 If there is one thing Puerto Ricans may have defined better than any other culture, it is how to have a genuinely good time without the use of modern technology. One of the most definitive objects in Puerto Rican homes is the domino table. Nearly every family has one, and some have had their tables for multiple generations.
Families, friends and new acquaintances can all gather around the table to laugh and play a timeless game. In tourist towns, visitors are welcome to join the games or learn how to play. It is not uncommon to witness young kids teaching adult tourists how to play Puerto Rico's most popular table games. For many years, dominoes have been a way for people to make friends and socialize. In Puerto Rico, the domino table is seen almost everywhere. The beaches, parks, hotels, bars and many other establishments keep guests entertained and tourists intrigued with these tables.
Puerto Ricans who have seen the standard plastic or faux wood domino tables sold in most American stores immediately know the difference between these products and the items from their homeland. Puerto Rican tables are known for their personality, which often include creative patriotic flare.
There are probably at least 50 different variations of these tables, some of which are painted by hand. Puerto Rico's flag is a staple on many tables. It may be painted in a realistic manner, or it may be abstract with several other details. Some show homage to Puerto Rico with the inscription Patria Querida on the top.
Another thing Puerto Rican domino tables are known for is their durability. Almost all of these products are made of solid wood. However, some may have a paint covering instead of a glossy clear coat. Since it channels the tables that are common in the homeland, many people prefer the natural wood look.
Dominoes have been one of the most popular social activities in Puerto Rico for many years. Whether it is Quinientos, Doscientos, Chiva, Gallinazo or a made-up game, nearly every family uses one of these tables to play dominoes. For Puerto Ricans who want to teach their children about their native culture, domino tables are a great way to start.