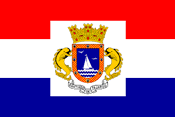 Believed to be founded between 1760 and the mid-1770s, Fajardo, Puerto Rico has grown to become one of the most important cities in the Caribbean. The city, also known as "The City of the Rising Sun", is on the easternmost tip of Puerto Rico where the sun first rises. It is home to the largest marina in the Caribbean, where visitors can experience sailing, parasailing, and catamaran chartering. Its position makes it a great jump-off point for excursions to nearby islands and the crystal-clear turquoise waters have made snorkeling very popular in the area.
One of the best things about this destination is the breathtaking views. One of the best views is from the observation deck of the El Faro lighthouse, originally built in 1880 as part of the Spanish government's lighthouse system. The lighthouse has been in continuous operation since 1882 and was restored in the early 1990s by the Puerto Rico Conservation Trust. On a clear day, visitors to the observation deck can see all the way to distant Caribbean islands.
The city is also a premiere beach destination with 46 beaches spread across its shoreline. The most popular beach in the area is the crescent-shaped Seven Seas beach. Lined with almond and palm trees, the shoreline is ideal for both water activities and relaxation. Seven Seas also has food kiosks, gazebos, camping areas, restrooms, showers, and parking.
Other popular beaches around the area include Playa Colorá, known for its reddish-colored sand abutting the turquoise waters, and Playa Escondida, which has golden sand and mangrove trees. Governor's Beach is one more highly-popular location and is considered to be one of the area's most pristine beaches. Another interesting place to see is La Zanja, also called The Ditch. This natural pool is in a secluded location roughly 30 minutes away from Seven Seas on foot and is created by waves from the Atlantic Ocean spilling over a rocky outcrop to fill the pool.
In July, the city holds a celebration in honor of its patron saint, Saint James the Apostle. This religious and cultural celebration, known as the Fiestas Patronales de Santiago Apostol, encompasses a wide range of activities, including live entertainment, parades, amusement rides, games, and offerings from regional restaurants and artisans.
Fajardo is also a great destination for visiting pristine natural reserves. A short distance away is the Cordillera Natural Reserve, a collection of remote keys and cays. The largest key of the reserve is Icacos Island, home to lavish coral reefs, schools of fish, and a variety of other marine creatures. Visitors can also charter a catamaran to go to nearby Cayo Diablo, Cayo Lobos, Cayo Ratones, and Cayo Cucarachas.
The Cabezas de San Juan nature reserve is also a great place for outdoor adventures. Here, visitors can find a bioluminescent bay where they can explore a wide variety of marine life. The dazzling, glow-in-the-dark waters are created by microscopic organisms that light up when agitated. While swimming is prohibited, moving the water by hand is allowed and encouraged. Nighttime trips by kayak are available year-round from local companies.
Fajardo also has daily ferries that travel to the Culebra and Vieques islands east of Puerto Rico. Culebra Island has miles of pristine coastline, making it a popular destination for sailors, beach-goers, and snorkelers. The area was the site of military exercises until 1975 and there are still some old U.S. Army tanks located there.
Vieques Island, seven miles away by ferry, houses the biggest natural wildlife refuge in the Caribbean. Visitors to the island can explore charming colorful towns and naturally landscaped beaches, as well as see Paso Fino horses roaming free. Vieques also holds Mosquito Bay – the brightest bioluminescent bay in the world. The island has become a popular location for family vacations, romantic honeymoons, and destination weddings.
Fajardo Current Weather
Fajardo, PR
6:53 am,
November 30, 2023
76
°F
broken clouds
Places of Interest
Municipio de Fajardo
Fajardo ocupa el extremo este de Puerto Rico. Limita con las aguas de Océano Atlántico por el norte y el este, con Ceiba por el sur y con Luquillo por el oeste. Fajardo fue el apellido de uno de los primeros colonos de la región que explotó los yacimientos de oro, de los cuales era muy rico el Río de Fajardo.
Balneario Seven Seas
Seven Seas Beach is a white sand public beach located near the town of Fajardo. The clear shallow water is teeming with vibrant tropical fish and coral reefs and is protected by offshore reefs. Trade winds blow across the water. You won't find beaches in Puerto Rico to be far from the beaten path, however, this beach is a little more secluded than many, making it a perfect spot for some vacationers. Seven Seas Beach is still fairly central.
Local Tours and Activities
---
Seniors for Seniors – learn more