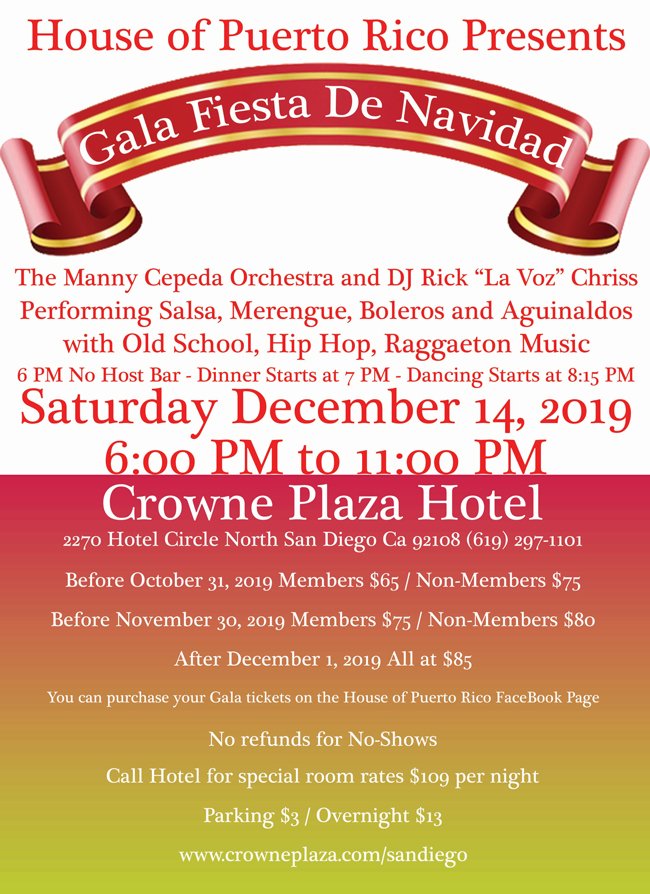 Nothing feels more like Christmas than a festive party with delicious Puerto Rico food and traditional music, shared parranda songs, a live Salsa band, a dynamic DJ, and dressing to the nines! You can't get any better that that! Join us every December for this great celebration.
Gala Fiesta de Navidad 2019
Saturday, December 14, 2019
6pm-11pm
Crowne Plaza, San Diego
This year we are please to bring the Manny Cepeda Orchestra as this year's headline Latin music entertainment and old-school Salsa and current sounds by DJ Rick 'La Voz' Chriss.
Not to be missed is a savory Puerto Rican Christmas Dinner and a 'Knock Your Socks Off' Raffle.
Ticket Sale Details
Due to the nature of the event, all dinner tickets must be purchased in advance.
Note deadlines below.
No dinner tickets will be available at the event. All sales are final.