Puerto Rico Timeshares for Less
Situated in the northeastern Caribbean, Puerto Rico is home to over 270 miles of gorgeous beaches and approximately 28,000 acres of tropical rainforest, making it one of the most fascinating vacation destinations worldwide. Timeshare resales are the perfect way to explore Puerto Rico, as there are a variety of luxury accommodations available, ranging in size from studio units to suites with three or more bedrooms that can often sleep ten or more guests. Timeshares also provide a wider variety of amenities which are often not included in a standard hotel room. There are many types of vacation ownership, but each type of timeshare costs only a fraction of what it would cost to buy a vacation home or condo outright. Puerto Rico timeshare resales and rentals are a great way to experience an unforgettable vacation on the small but beautiful island at an affordable price.
By purchasing a Puerto Rico timeshare resale (timeshares for sale by owner), you can save a significant amount of money on your family's vacation, and with the ability to exchange your timeshare weeks at other resorts all over the world at places like Miami or Disney World, you have the flexibility to choose where you want to go. Purchasing or renting Puerto Rico timeshare through a company like SellMyTimeshareNOW makes timesharing even more economical due to the extremely discounted prices and the ability to negotiate directly with property owners to get the best possible deals. You can find many for-rent-by-owner resorts, condos and villa rentals for substantially lower prices than what it would cost to rent directly through a resort or hotel.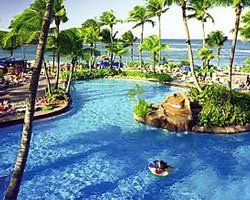 For example; situated on the northeastern coast of the island in Rio Grande, Sol Melia Vacation Club at Gran Melia Puerto Rico is an exquisite resort located just minutes from the awe-inspiring El Yunque rainforest. This impressive timeshare resort on Coco Beach offers a lagoon-style swimming pool, lighted tennis courts, two 18-hole championship golf course and host of other amazing amenities. Offering something for every vacationer, this resort provides the perfect way to explore all that Puerto Rico has to offer at great prices.
Another option for purchasing or renting timeshare in Puerto Rico is Hyatt Hacienda del Mar, a luxurious timeshare resort located in beautiful Dorado, where you'll find the world's longest river-pool filled with grottoes and waterfalls. This extraordinary timeshare resort provides guests with spacious, residential-style units decorated with elegance and comfort in mind, and equipped with everything you need to make you feel at home. Travelers seeking adventure need not go far to find a host of exciting activities like windsurfing, sport fishing, scuba diving, snorkeling and golfing.
There are a variety of additional timeshares in Puerto Rico for sale and for rent through SellMyTimeShareNOW.com available at incredibly low prices. And if you ever need to cancel your timeshare, you can use a timeshare cancellation company.
About SellMyTimeshareNOW, LLC
Averaging more than 1.7 million pageviews per month, SellMyTimeShareNOW, LLC provides internet advertising and marketing for timeshare owners seeking to sell or rent timeshare while offering timeshare buyers and renters competitively priced vacation ownership and rental opportunities. SellMyTimeshareNOW.com is the global leader in connecting timeshare sellers, buyers and renters. The company was founded in 2003 and is based in Dover, New Hampshire and Orlando,  Florida.  There is also always the option of cancelling your timeshare contract in the event things don't work out they way you thought they would.
You may also be interested in learning What Happens to a Timeshare When the Owner Dies?