Are you ready for a taste of Caribbean paradise?
The Puntas Tree House is a three story family run vacation rental home just steps from Sandy Beach, famous for world class surfing, sun  bathing and it's sand bottom, one of the only sand bottom beaches in the entire area and within walking distance to some of the best restaurants and bars in Puerto Rico.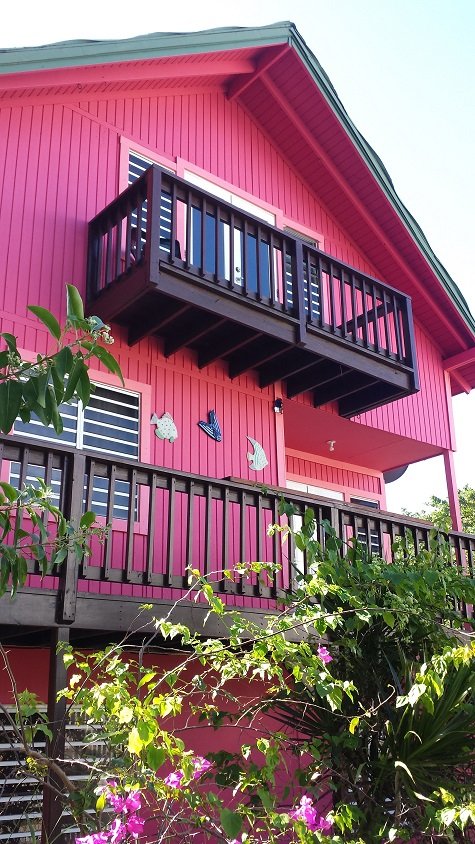 About Our Vacation Rentals
Our Caribbean beach house vacation rental offers hotel quality amenities with a nautrical style furniture and theme at budget prices in a familiar environment so you can feel at home while you're on your Caribbean vacation trip to Puerto Rico.
Each floor has it's own amenities and private access. You can rent the house per floor for smaller groups or for larger groups you can rent the
entire property.
The first floor of the Puntas Tree House is a one-bedroom studio with a queen size bed, air conditioning, HDTV and private bath, perfect for 2 people.
Our second floor is a two-bedroom suite that sleeps up to 4 people, great for two couples or a family with children who want to enjoy a little bit of extra privacy. This unit has two bedrooms each with air conditioning, and queen-sized beds. This unit also features a full kitchen with a stove and oven, private balcony facing the ocean and HDTV.
Our third floor penthouse has often been called the honeymoon suite. This one bedroom sleeps up to 6 people and has a large kitchen and living room area with two futons, queen size bed in the bedroom, air conditioning and a cozy private balcony with great views of Sandy Beach. Great for groups and couples alike.
Hotel Quality Amenities
Every floor has hotel quality amenities found in most Puerto Rico hotels like high speed WIFI, coffee makers, linens, basic toiletries and
hotel quality shower heads but unlike some of the hotels in Puerto Rico we try to go above and beyond by providing the most down to earth and friendly service possible to keep you coming back on all our trips to Puerto Rico.
What Makes Our Rincon Beach House Vacation Rental Special?
We pride ourselves in being one of the only green vacation rental homes in Puerto Rico by supporting local and global conservation efforts
by donating some of the proceeds from our rentals and doing our part by using green products and recycling. We hope you enjoy some of our up cycling projects around the property.
If you'd like more information about our beachfront vacation rental click the Vacation Rentals and Rates http://www.puntastreehouse.com
Related Articles
There is a surfer's paradise on the northwest corner of Puerto Rico where the Caribbean Sea and the Atlantic Ocean collide. There lies the city of Rincon, famous for its...

the Lighthouse in Rincon, Puerto Rico. The lighthouse was not very busy this time of the year. It gets very busy in the Winter with a lot of whale watching...

Surf's Up in Rincon By Mark Jury Rincón and Surfing are synonymous and many of our winter visitors come here as a result of the consistent waves that break over...