Several types of boats to escape depression
Governments around the world are fighting the Covid 19 pandemics and often force us to stay at home in isolation. Of course, the safety of our health is a priority for everyone, but statistics tell us about a large percentage of depression and mental disorders as a result of long-term self-isolation. One way not to lose your mind is to go on a boat trip.

With a boat, you have a variety of ways to enjoy yourself. In the ripe season with a lot of other boaters, enjoy the bustle of marine life; in the fall, take a ride through a quiet river and busk in the season's color, and in the winter, enjoy the festive mood on peaceful coves or rivers with your loved ones. With all that said, there is so much you can do with a boat!

If you decide that it's time you get a boat, read further, and know more about the types of craft available. There are a variety of boats in the market such as barge boats for sale, more than enough to suit different preferences. Whatever purposes or plans you may have for wanting to own a boat, below is a guide to some more types of boats. 
By the way, one of the most popular sites for buying and selling boats – Zeboats, will provide you with a choice of any type of boat, from a dinghy to a large motorboat or sailing yacht.
1. Sailboat
Sailboats are vessels that can carry up to 14 passengers. These can be mono-hulled or with multihulls. The latter is preferable for its stability and is roomier.  You can use sailboats for slow cruising, even overnight, to quiet coves or beaches. You can go out and entertain family and friends. For those who love speed, they can spend their time perfecting sails trimming in different kinds of wind.
2. Catamarran
Catamarans or cats are multi-hulled watercraft. They are great for long-distance cruising, chartering, and fishing. Since they have multiple hulls, they offer a lot more living space. They are very stable and are naturally buoyant. Catamarans generally have twin engines to power the boat. They are built for speed and can move fast because of the minimized drag on the boat.  A variant of catamarans is the trimaran. It is named so because it has three hulls.
3. Cabin Cruiser
A cabin cruiser is basically a cabin on a boat. It provides accommodation for its passengers. These boats have a galley with a living space. You can add modern comforts like air conditioners and power generators to these boats.

Cabin cruisers can carry up to 10 people. These boats are great for overnight cruising, extended stays aboard, and visiting ports.
4. House Boat
These are boats that are primarily designed to serve as permanent homes. Lifeboats are usually not motorized as they are usually moored to a particular area. Some varieties are capable of moving on their own.
5. Center Console
These are preferable choices for serious fishing because of the fishing flexibility it offers. Center consoles have enough space for fishing gears. With an open deck space, they also provide a sitting area. These boats have excellent performance and can sail through rough waters. They are also popular for their good looks.

Center consoles also make good family boats because of their stability, and larger consoles have enough space for galleys and support overnight stays.
One of the popular brands in this niche is SeaHunt. Read here more about this producer and their products.
6. Bay Boat
These boats are commonly for inshore fishing in shallow waters and bays. They are among the most versatile saltwater fishing boats. It resembles center consoles with little freeboard.
7. Cuddy Cabin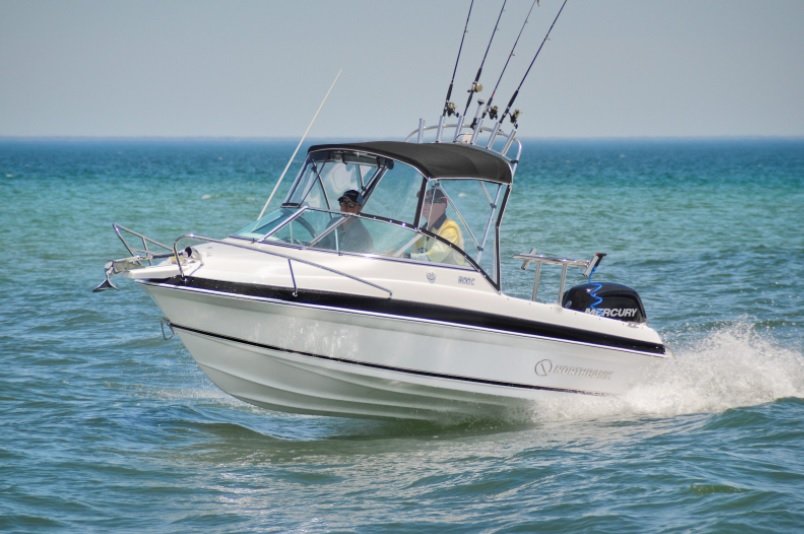 Cuddy cabins are small craft that has the qualities of bowriders and a cruiser. It is a good choice for overnight cruising or for spending time with family or friends.  Cuddy cabins are usually small in size with considerably small galleys, and, sometimes, a living space is also available.
8. Runabout
These are perfect choices for day cruising and watersports. Just as the name suggests, runabouts are mostly for people who look for speed in boats. They are generally small in size, with low maintenance needs and easy operation. They are a good choice for starters to enjoy boating activities.

You can use runabouts for pleasure cruising, fishing, or as a tender for bigger vessels. A variety of runabouts are available for different activity preferences. If you are going to ski or wakeboard, you can opt for a sterndrive powered runabout tailored for watersports.
9. Jetboat
A jet of water ejects from the back of the boat that propels it. These boats are suitable for shallow waters, and you can sail to beaches to enjoy the sand and sun.
Jet boats can carry up to 10 passengers. You can go day cruising or for watersports. These are a good choice for speed. Jet boats are a favorite because of their ability to maneuver smoothly.
10. Jon Boat
Flat bottomed, stable, and lightweight, Jon boats are inexpensive and make a great starting boat for first-timers on a budget. Jon boats are mostly aluminum. They can also be made of fiberglass or wood. Jon boats are suitable for just enjoying a leisure boating day or for fishing.
11. High-Performance Boat
High-performance boats are designed and explicitly powered for speed. This category includes sport catamarans, performance-oriented center consoles, and V-bottoms with closed decks. Sterndrives and outboard systems usually power these types of vessels.