Best 5 Hotels on Puerto Rico
Puerto Rico is a lush tropical island that many people visit each year, including stateside Puerto Ricans. There are many pleasing hotels to stay at and visitors can use coupon codes to receive discounts on some of these hotels. Below you will find the 5 best hotels on Puerto Rico.
Caribe Hilton
The Caribe Hilton is considered to be one of the most luxurious hotels on Puerto Rico. It offers a secluded beach, many luxurious accommodations and is perfect for families or couples. The hotel features several oceanfront swimming pools and hammocks next to the beach for visitors to relax. The hotel also offers 9 different restaurants ranging from sushi to the popular and authentic cuisine of Puerto Rico.
Sheraton Puerto Rico Hotel & Casino
The Sheraton Puerto Rico Hotel & Casino is conveniently located just a few minutes from the airport, San Juan Luis MuÑoz MarÍn International Airport. It has a contemporary design and accommodations. The rooms have flat screen TVs, bathrobes and 24 hour room service available. The Sheraton Puerto Rico Hotel & Casino features a sun deck and 57,000 square foot pool that overlooks the San Juan Bay. Among the amenities are the full service spa, the island's largest casino and many restaurants featuring fine cuisine.
Villa Cofresi Hotel
The Villa Cofresi Hotel is located on the west cost of Puerto Rico on the Rincon beach. This family friendly hotel has a wide variety of rooms to choose from including those with private balconies and ocean views as well as those that are set up like luxurious two bedroom apartments. There is both a swimming pool for adults and children, in room massages, room service and banquet facilities. Guests can partake in various watersports such as kayaks, banana boat rides and jet skiing.
San Juan Water & Beach Club Hotel
The San Juan Water & Beach Club Hotel is located within a few miles of the San Juan International Airport. All of the rooms overlook the beach or the city. Each room is equipped with a flat screen TV, floor to ceiling windows and hardwood floors. There are several onsite restaurants for visitors to choose from. Guests can enjoy a workout in the fitness center, dip in the swimming pool or enjoy a massage. There is also a Sun Terrace for use by guests who wish to soak up some Sun and relax.
Las Casitas Village and Golden Door Spa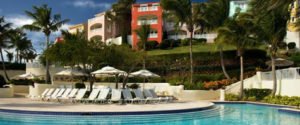 The Las Casitas Village and Golden Door Spa is located in Fajardo, Puerto Rico. Guests can enjoy many of the comforts of home at this resort. It features cottages with 24-hour personal butler service. Each cottage features tropical decor and secluded balconies. Activities include horseback riding, wave running, wind surfing and golfing. There are also several fine dining restaurants onsite or nearby the hotel.
Concluding Thoughts
Puerto Rico offers a wide array of hotels to choose from. Visitors can experience luxurious accommodations that they ordinarily wouldn't elsewhere. So next time you wish to take a vacation to Puerto Rico consider staying at one of the above hotels. Do you have any Puerto Rico hotels on your top 5 list?
Stormy Lee has been a writer for over 10 years. She specializes in articles about education, travel and finance.