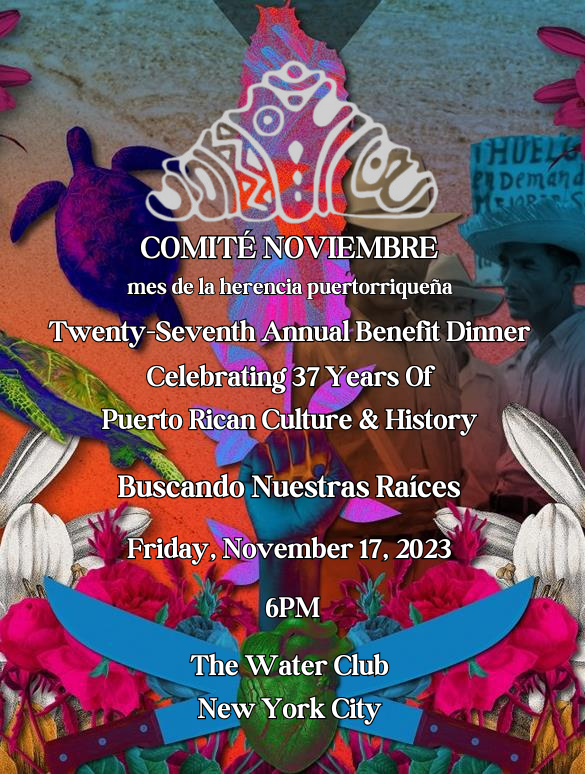 Twenty-seventh Annual Benefit Dinner
Celebrating 37 Years of Puerto Rican Culture & History
Buscando Nuestras Raíces
2023 Puerto Rican Heritage
Nuestro Orgullo Awards
Honorees
Isabel Abislaimán, Esq., Attorney at Law
Law Office of Isabel Abislaimán, San Juan, PR
Dr. Mildred Garcia, Chancellor, California State University
Ivan Enrique Rodriguez, Composer, Conductor &
Comité Noviembre Ernesto Malave Scholar
Belkis Moya, Pastor, Casa Amor, Fe y Esperanza
The Alma y Corazón Award
Wallace Edgecombe, Arts Activist & Retired Director
Hostos Center for the Performing ArtsFriday, November 17, 2023
The Water Club
500 East 30th Street, New York City
(on the East River on 30th Street)
6PM Cocktail Reception ▪ 7PM Dinner
▪ 6PM–8:30PM Silent Auction
Entertainment
Make reservations by November 8, 2023
The proceeds from this event go towards Comité Noviembre scholarship and youth leadership development programs as well as our continued work in Puerto Rico
For More Information or to Make A Reservation Please Contact:
Teresa A. Santiago tascommunicationsllc@gmail.com
914-263-6599
Angel Santini Palos angelsantinipalos@gmail.com
646-477-0659
ABOUT COMITÉ NOVIEMBRE
Established in 1987, Comité Noviembre is a nonprofit organization that commemorates and pays tribute to the contributions Puerto Ricans have made to this nation. Its mission is to create educational opportunities for youth through college scholarships, as well as promote, acknowledge, and create awareness, of the importance of young people knowing their rich culture, language, and history. Comité Noviembre creates open forums to discuss critical issues affecting the Puerto Rican community specifically in the areas of education, youth leadership development, and civic involvement. Comité Noviembre is the only collaboration of its kind in the United States that brings together the collective talents and resources of some the oldest and most prestigious Puerto Rican organizations: ASPIRA of New York, Centro de Estudios Puertorriqueños Hunter College/CUNY, El Museo del Barrio, Eugenio María de Hostos Community College/CUNY, Institute for the Puerto Rican/Hispanic Elderly, (IPR/HE), La Casa de la Herencia Cultural Puertorriqueña, Inc., La Fundación Nacional para la Cultura Popular-PR, Justice Committee: NCPRR, National Conference of Puerto Rican Women, (New York Chapter), Puerto Rican Institute for the Development of the Arts, Inc. (PRIDA) and the White Plains Puerto Rican Cultural Committee. This coordinating body plans and promotes Comité Noviembre's annual programs and events.