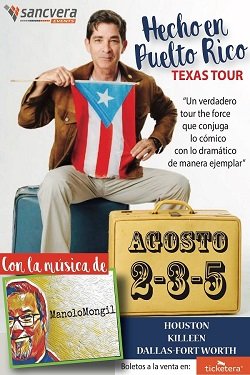 THE ONE MAN SHOW SUCCESS HECHO IN PUELTO RICO COMES TO HOUSTON, KILLEEN AND DALLAS, TEXAS                                                                                         Actor and writer Angel Vázquez has presented his monologue 95 times and over 15,000 people has seen it all around Puerto Rico and the United States. Vázquez has become a cultural ambassador, who connects the diaspora with Puerto Ricans from the island.
On this occasion, this comedy will be presented on Thursday August 2nd. at Talento Bilingue in Houston,  Friday August 3rd. at Killeen Arts and Activities Center and Sunday August 5th at Bob Duncan Center in Arlington, Texas.
Angel Vázquez is a veteran actor with 30 years of experience. He has worked with Sylvester Stallone and Antonio Banderas in Assassins, with Selena Gomez in Pincess Protection Program and with Ricky Martin in General Hospital, among others.
Hecho in Puerto Rico is about a student who wants to leave the Island, because of it's social, economic and political situation. His situation becomes critical after Hurricane Maria hits Puerto Rico. However, he learns about the forgotten heroes of his homeland and now he has to decide: To leave or stay to rebuild his country.
In real life this veteran actor was hit very hard by Hurricane Maria. He lost part of his home and 13 presentations and was without electric power for over three months. However, as soon as possible he began to present this show to refugees around the Island. "Everywhere I go in the States people ask me about conditions down here". The diaspora was the first to respond with humanitarian aid after the Hurricane.
Come and celebrate our roots and heritage with this outstanding, funny and full of heart comedy. There is a special presale offer where you can get tickets at Ticketera.us starting at $25.
More Ticket info
For tickets ticketera.us<http://ticketera.us>
Purchase Tickets for Arlington