Moving is stressful. Every time you move, you pack up your stuff, throw away some, and move your luggage to a new place, only to undo what you did; unpack and buy some new stuff. While this may seem futile, it also involves moving into a new house and turning it into your dream home. Whether you are moving to a bigger place or one that is closer to your workplace, one that is cheaper, or one that is the very definition of your dream house, the experience of moving can be a bag full of mixed emotions. 
From excitement to frustration, moving entails it all. But as much as you look forward to settling into that new home of yours, moving can seem like a herculean task. The need of getting a new internet connection, changing your address in various administrative offices, and taking on a lot of paperwork does not help the cause. But by remaining organized right from the start, planning well in advance, and taking it one step at a time, you can make your relocation, if not a walk in the park, at least a lot simpler and straightforward. Here are a few tips to make your relocation as easy as possible.
Give Yourself Enough Time
Moving can take a lot of time. Underestimating the number of their belongings and overestimating their endurance of packing are mistakes that everyone makes. It is important to give yourself enough time and then a little more to make sure that you are able to pack well in time and in an organized manner. You need to account for delays that might occur due to unforeseen circumstances and mistakes. You don't want to end up doing a half-hearted job while packing your precious belongings.
Arrange Boxes and Supplies
Before you start packing, you should estimate the amount of packing material and equipment you would require. Having everything ready before you dig into packing can smoothen the process. It would help in preventing any interruptions due to a lack of boxes or tape. You would also need some bubble wrap, paper, packing peanuts, and plastic sheets to protect your electronics. While sourcing boxes, you should try, as far as possible, to get boxes of the same size. This makes it simpler to transport them. Also, you could save some money by sourcing your boxes from the local supermarkets, which usually have excess boxes lying about.
Finalize a New Place 
Before you begin to pack or even begin to plan for packing, you should finalize a new place to move into. Unless your new place is confirmed and the documents are ready, you shouldn't start packing your things. The professionals at StewartRealtyllc.com suggest making a few visits that would be taken care of by the real estate agent. Seeing the house in person can give you a better idea about its size and layout, and how you wish to arrange and organize it. Further, the real estate broker can also help you sort out any necessary documentation.
Target One Room at A Time
Packing one room at a time can help you stay organized. Plus, you get to offload some of the work on your kids. You can make them responsible for packing up their rooms. You can start with the living room and finish with the kitchen. This way you can pack your belongings in boxes segregated based on the room that they belong to, making it simple to unpack. While packing one room at a time, you should keep a box separately in which you can pack all those belongings that you will need during the relocation period.
Prepare A Packing Checklist
Moving requires you to perform a lot of tasks. From canceling your current internet connection to subscribing to a new one, changing your mailing address for all your accounts, arranging for transportation, stocking up supplies, etc. Keeping on top of so many tasks can often get confusing and during the chaos of packing it is easy to overlook a few. Maintaining a packing checklist on which you can check off one task after the other, not only helps you keep track of your progress but also keeps you motivated.
Get Rid of Some Stuff
While packing, you often come across various belongings that you haven't used for a long time. Those clothes that got lost at the bottom of the pile? The books that are hidden behind a layer of dust? It is very likely that you wouldn't require things that you forgot even existed. Rather than packing these and transporting them to your new place, you would be better off disposing them, or selling or donating them if they are in reasonably good condition. Not only could you make some money by having a garage sale, but you could also save up on some taxes by donating some of your belongings.
Take Photos Before Packing
Before packing all your belongings, you should click some photos of your old house. This helps you remember where what was placed and makes the unpacking and subsequent organization simpler. It will help prevent you from forgetting anything that you had in your old house. This also comes in handy while employing the services of professional movers and packers. Taking photos of everything in your house proves useful if there is any damage during the shifting. If something breaks and there is damage, you can always use those photos as proof of its initial condition.
Arrange For Your Utilities, Internet, and Cable Providers
As you progress with your packing, it becomes easier for you to estimate the probable moving date. When you reach that stage, you should start contacting your utility suppliers at your new home to make sure that everything is ready by the time you move in.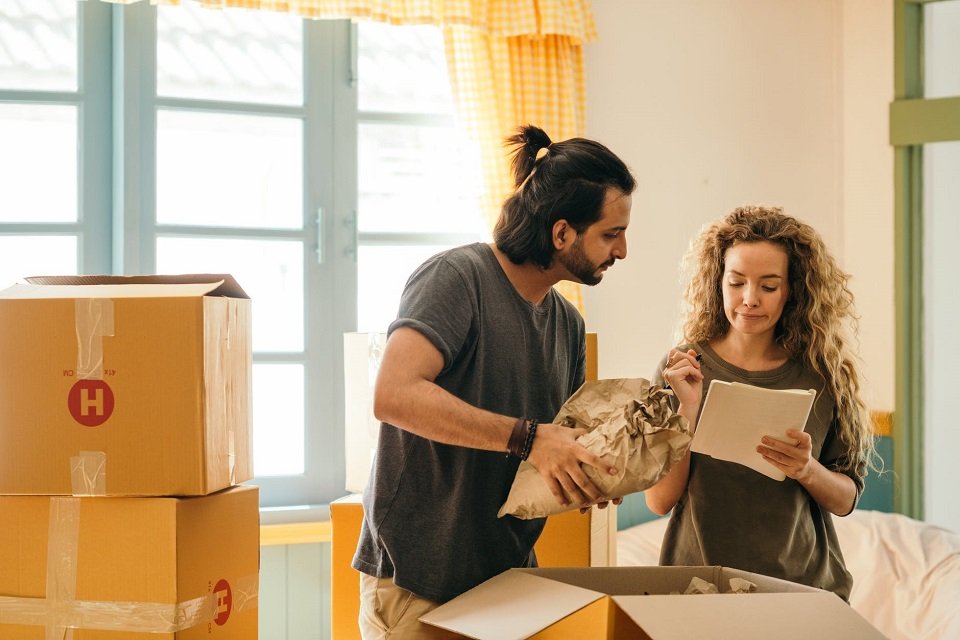 After the rigor of packing, moving, and unpacking, you need to take a well-deserved break, and not having heating, cooling, water supply, electricity, or gas supply is the last thing you want. By planning well in advance, you can make sure that your house is all ready for you to move in.
While relocating can be quite stressful and a lot of work, it doesn't have to be. Start early, stay organized throughout, and most importantly, don't forget to take a break. If it does get out of hand, you could always utilize the service of professional packers and movers. Follow these tips and you would be relaxing in your new home in no time.