Puerto Rico is totally open for business. As your might already know, Hurricane María hit Puerto Rico in September 2017 and the damages were uncountable. Fortunately, we were able to overcome all the struggles that the hurricane bring when it comes to deliver to our visitors. There are many things that you can do if you are a female solo traveler and if you really want to make a difference in your visit to the island.
Food Tours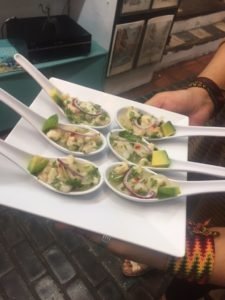 If there is something that Puerto Rico has not lost even in the darkest times post hurricane is the flavors and the seasoning of our traditional dishes. A great way to explore many of these flavors are food tours. In San Juan, you can find an amazing option such as Flavors of San Juan.
Flavors of San Juan is a company that is making tours in the area for a few years. Their Old San Juan Food Tour is the #1 ranked food tour in the island on TripAdvisor. This food tour around the Old City gives an insight on the local tradition and culture through an authentic culinary experience. If you take one of these tours, don't forget to mention about any diet requirement of allergies you might have.
New cuisine concepts
Food trucks, and conceptual cuisines are some of the new ideas rising in the island. You can find amazing places where to experience locally grew ingredients and fusions. In Santurce, you will find places like Lote 23 and new restaurants in the area of Miramar such as 6.21 Cocina Libre or Musa,  which have brought new concepts to the dining scene that are definitely worth trying.
Local Guest
Looking to explore Puerto Rico and also make a difference during your visit? Then Local Guest  is the answer! Local Guest is a women's powered company that co-create community based touristic experiences. Some of their experiences include helping local farmers and exploring their farms or a Bomba dance lesson after helping with the Community Center. If you are interested on learning more about their experiences and how you can help and explore different communities around the island, feel free to write to hello@localguest.com to find out more.
Authentic Lodging Options
Before and after Hurricane María, many different lodging options have been emerging in the islands. Hostels, glamping sites, b&b, among others are available to make your stay in the island a lot more memorable. Depending where you want to go or what you want to do, there are options such as Santurcia Hostel, Pitahaya Glamping or Casa Isabel. Definitely, these are options that will have a positive impact in the Puerto Rican economy if you choose to stay in one of these.
Things to be aware while being a Female Solo Traveler
In general, Puerto Rico is a safe place for female solo travelers. What I would say is the biggest challenge for any traveler in Puerto Rico is transportation. Puerto Rico is not the best place to try hitch hiking as a way to move around so, I would not recommend that. The safest bet to move around the island is renting a car. If you are planning to stay in the San Juan area, Uber and public transportation works to move around and using your common sense on certain places will lead you to have an amazing
experience.
I hope this guide help you to explore the best of Puerto Rico while traveling solo and also, to really help our economy as our visitor.
Brenda G. Mejia
Blogger/ Editor
Traveleira
w: www.traveleira.com
currently in: San Juan, Puerto Rico
Related Posts
The islands of Puerto Rico are rich in diverse plant and animal life. The main island is home to verdant jungles, rugged mountains and arid dry forest, as well as...

Casa Bacardi Casa Bacardi is home to the Bacardi family's extensive rum distillery and a popular Puerto Rican tourist stop. Located in the town of Catano and monitored by the...

Puerto Rico (Rich Port in Spanish) is an unincorporated territory of the USA, and is located southeast of Miami, Florida. It is in the northeastern Caribbean Sea and is basically...