Pasteles de Masa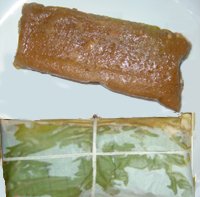 4 lb carne de cerdo
Sal
1/4 taza de aceite de achiote
10 hojas de Recao
1 cdta Orégano
1 pimiento verde – picado
1 md Cebolla, picado
10 ají dulce – picados
6 dientes de Ajo
2 tomates – picado
8oz Salsa de Tomate
24 aceitunas esañolas
Sal y pimienta a gusto
—–MASA—–
7 lb de Yautia blanca
4 lb plátanos verdes
1/4 aceite de achiote
3 1/2 cdta de Sal
Hojas de guineos lavadas.
Pica la carne en pedazos pequeños y sazona con sal. Cocina el resto de los ingredientes, -NO LOS DE LA MASA- por 5 minutos. Añada la carne, permite hervir y luego baja a fuego mediano, cocinado por otros 20 minutos o hasta que la carne este tierna.
LA MASA – Monda las yautias y plátanos y guayelos hasta que tengas una masa blanda. hecha un poquito de la carne y un poco del aceite de achiote a la masa y mezcle bien.
Moja la hoja de guineo (12×12) con aceite de achiote.. y en el centro pones de 6 a 8 cucharadas de Masa. En el centro de la masa pones 2 o 3 cucharadas de carne. Ahora doblas la hoja con cuidado, cubriendo la carne de masa, para formar un rectangulo. Amarras el pastel con hilo de cocinar. Repita el procedimiento hasta que se halla usado toda la masa.. como 36 pasteles
En una olla grande hechas 5 litros de agua de sal, entonces hechas como 12 pasteles en el agua hiviendo, y cocinas como 45 minutos. Quítalos del agua enseguida que esten cocinados.
*********************************
Pasteles Recipe
4 lb pork – very lean
Salt
1/4 cup Annatto oil
10 Cilantro leaves (recao)
1 tsp Oregano
1 red bell pepper – chopped in fine strips
1 md Onion, chopped
10 sweet peppers (aji dulce)
6 cloves of Garlic
2 large tomatoes – Chopped
8oz can of Tomato sauce
24 Stuffed spanish olives
Salt and pepper to taste
—–PASTEL DOUGH—–
7 lb White Yautia (spanish root)
4 lb green Plantains
1/4 cup Annatto Oil (recipe follows)
3 1/2 tablespoon Salt
Store bought Banana leaves (washed)
Wash and pat dry the meat. Chop into very small pieces and season with the tablespoon of salt. In a large saucepan add the remaining ingredients (NOT THE DOUGH INGREDIENTS) and cook for about 5 minutes, then add the meat, bring to a boil, lower heat and simmer for about 30 more minutes or until meat is tender.
Peel the yautia and green plantains. Grate them until you have a smooth dough type mixture. Slowly add a little of the meat sauce to the dough and mix well. Add 1/4 cup Annatto oil and the salt to the dough, mix well and set aside. (dough should be smooth but not to soft.)
Brush the leaf with a little annatto oil and place 6 or 8 tablespoons of the dough mixture in the center of a 12×12 piece of banana leaf which has been washed. ( these leaves can be purchased at most spanish stores and are pre-cut. But if you can not find them, you can use parchment paper, which is also available at the spanish market.) Spread the mixture in the center of the leaf and form a well in the center of the mixture. In the well; place 2 tablespoons of the meat mixture. Carefully fold the dough so the meat mixture is covered over. Then fold the leaf to form a rectangular shape and tie with string (tight enough where the mixture won't come out of the pastel). Repeat this until all of the dough mixture has been used. There should be about 36 pasteles.
In a very large pot, place 5 liters of water and 3 1/2 tablespoons of salt; allow to boil. Place about 12 pasteles in the boiling water and allow to boil for about 45 minutes. Immediately remove from water once they are cooked.
recipe courtesy of Bobby's Pedacito de Puerto Rico
You can buy the produce locally, but if you need these

shop on line at BoricuaProduce.com in Chicago.

Hilo String to tie them
If you just want to buy Pasteles pre-made, you can purchase them from these places:
Taino Flavor – Cleveland Ohio
Buen Provecho – Atlanta Georgia
PR Pasteles on Facebook
Related Articles
Puerto Rican Coquito Recipe
Puerto Rican Coffee
Savory Puerto Rican Meat Dishes
Pumpkin: So Poor and Yet So Rich
5 Must-Have Traditional Puerto Rican Dishes
Puerto Rican Recipes – Puerto Rican Food
Preserving our traditional Puerto Rican cuisine
Piragua – Puerto Rico Piragua
Introduction to Arroz con Gandules
Pasteles de Masa – Pasteles Recipe