Puerto Rico – a Tropical Paradise for Your Wedding
If you are looking for the perfect destination for your wedding, you would be hard pressed to make a better choice than to tie the knot in Puerto Rico. The favourable climate, breathtaking scenery, relaxed atmosphere and food make this Caribbean island very popular with couples wanting to marry in a far-flung destination.
When to go
Puerto Rico can be a year round wedding destination. Its tropical location means that it is like summer all the year round in Puerto Rico and you can look forward to average monthly temperatures of at least 28⁰C, though it does tend to be warmer in the south of the island. While you can expect to receive some rain every day in Puerto Rico, February to April tend to be the driest months and as a general rule it is drier in more southerly areas. Although it might be warmer in Puerto Rico than you are used to at home, there's no reason why you still can't suit up for your big day; you might just want to consider a different style or material for your suit.
Where to hold the ceremony
While the hotels and beaches on Puerto Rico tend to be the most popular choice for couples in terms of location for their ceremony, don't let that limit you. The botanical gardens at the island's university display flowers from all around the world, along with sculptures and water features, so you would struggle to find a more beautiful setting to exchange your vows. Keeping with the theme of greenery, you can venture into the rainforest and be married under the tree top canopy. The Camuy Caves, an amazing underground cave system, indeed one of the largest in the world, has also been known for weddings and would certainly give rise to some dramatic photos. If getting closer to nature isn't your thing, why not consider Old San Juan, one of the most beautiful towns on the island boasting much impressive architecture to provide a backdrop for your ceremony and pictures to capture the day. If you prefer to choose a more intimate location, escape to one of the smaller islands off Puerto Rico's coast, for peace, quiet and serene scenery.
What to wear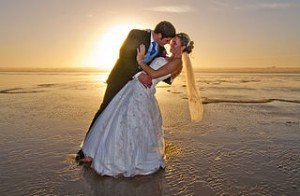 Although you have probably chosen the Caribbean for a more relaxed wedding day, it's still important that you dress smartly as the groom and you will probably want to encourage your best man to do the same. Opting for a suit made from cotton or linen might be a good idea in view of the climate. While you might be tempted to choose a brightly coloured shirt to enter into the Caribbean spirit and to contrast the white sandy beaches, a more tasteful option is to add a splash of colour to a white shirt with an accessory, for an example a colourful tropical flower.
Feeding your guests
Having been more careful about what you have eaten in the months leading up to your big day to ensure you look great when you suit up for your wedding, it's time to relax, sample and enjoy the delicious food on offer at your reception. The food in Puerto Rico has influences from not just Spain and Mexico but also other Caribbean islands, America and Africa, so the dishes on offer are unique and bursting with flavour thanks to the mix of herbs, spices and other ingredients. Meat, chicken, fish and eggs all feature in the cuisine of Puerto Rico, as do plenty of fresh vegetables, with plantains and sweet potatoes being the preferred carbohydrates to accompany a meal. You can look forward to desserts finished off with juicy tropical fruits, washed down with rum, the national drink.
Where to stay
Where you stay on your honeymoon is all important, as it adds so much to this once in a lifetime holiday. There are a number of luxury resorts and hotels to choose from in Puerto Rico, all of which have accommodation of a very high standard, with optional extras and wonderful food. Whether you are looking for a quiet location with a private beach or to be in a larger complex close to the hustle and bustle, you are sure to find what you are after. The same applies to what you hope to do while away; whether you prefer relaxing on a sun lounger by the pool while sipping a cocktail or to take part in water sports, your wishes can be catered for.
Weddings In The Caribbean – Puerto Rico The Commonwealth of Puerto Rico is an unincorporated territory of the United States and is situated in the north-eastern Caribbean Sea, east of...

Why you should have your Wedding in Puerto Rico Getting married is one of the biggest events in anyone's life, and choosing the right venue is one of the biggest...

There's something about the pristine beaches, tropical wildlife and fascinating history and culture, which make Puerto Rico the perfect place for your honeymoon. You'll be seeped in romance from the...